Gnarly Days and Happy Faces
June 10th, 2009
Goto comments
Leave a comment
WordPress database error: [You have an error in your SQL syntax; check the manual that corresponds to your MySQL server version for the right syntax to use near 'Array AND wp_tppk6p_posts.ID IN ('last_changed', 'get_page_by_path:a4aa5c528920' at line 1]
SELECT DISTINCT wp_tppk6p_posts.ID FROM wp_tppk6p_posts LEFT JOIN wp_tppk6p_term_relationships AS tr ON wp_tppk6p_posts.ID = tr.object_id WHERE 1=1 Array AND wp_tppk6p_posts.ID IN ('last_changed', 'get_page_by_path:a4aa5c528920d6072c106c6a2191b15f:0.60363500 1653472654', '742', '739', '749', '11', '981', '979', '977', '975', '341', '2', '189', '149', '163', '520', '250', '197', '262', '364', '469', '264', '230', '392', '275', '277', '279', '281', '283', '288', '290', '292', 'get_pages:4d452de86941be3fdec4ad38aa7b6c08:0.60363500 1653472654')
I gotta tell you, the last two days beat the begeezus out of me, Sheesh… There have been some great parts mind you, but the wind yesterday, and the "bridge-out" today… plus the finicky front-tube needing three repairs. Or the dirtroads… Did I mention the wind yesterday? It was wicked…
Such is life on the road. Pedal pedal. I'm just thankful the ForLiberty guys came down to shoot a promo for the ride 😀 and took most of the weight out of my cart.
Joetta Duetch was a big help through Illinois and it was great to get to see her on her own turf. She brought a welcoming crew down to the Sheriff Office, together we all made quite the troupe waltzing in. I didn't know at first that Chris was filming, and have been a bit apprehensive about broaching the subject with the sheriffs, but the long and the short of it is that there will soon be a youtube example of the pitch. I hope it turns out good 🙂
I met a supporter Chad at the Springfield Capitol.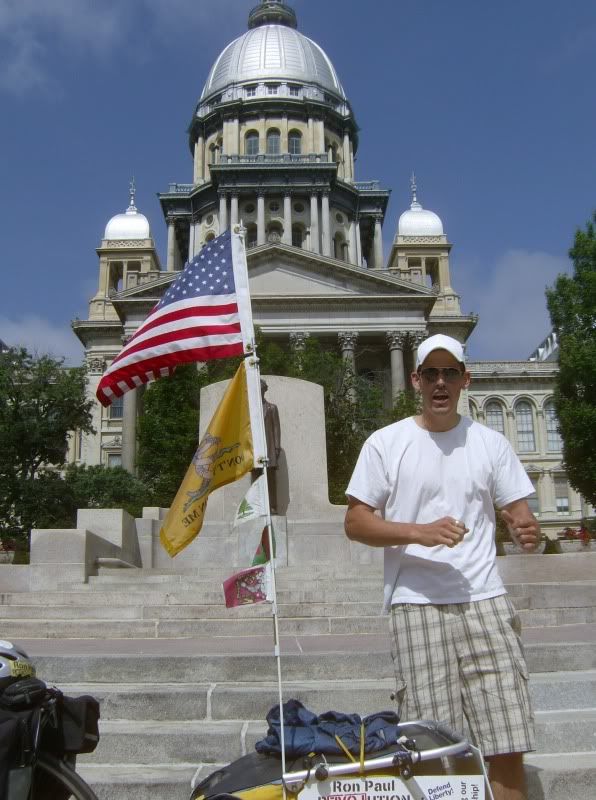 Great guy, cool car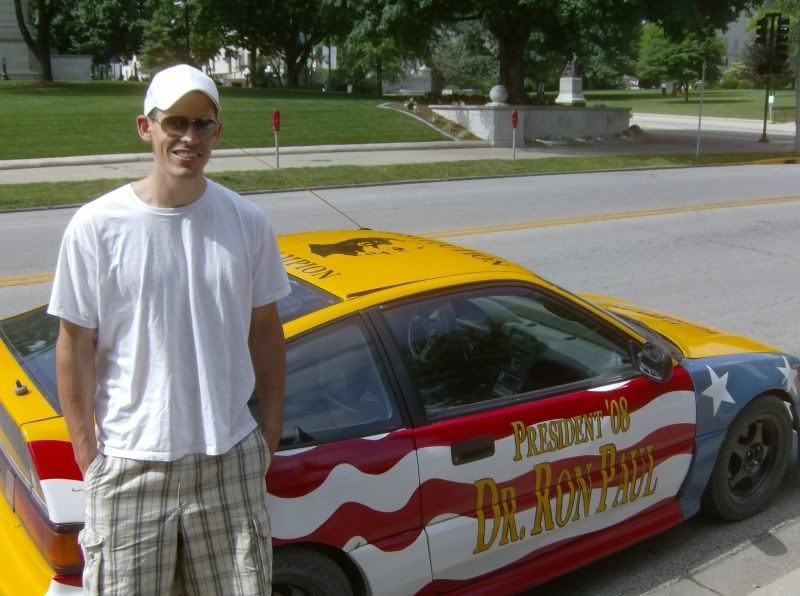 The ride on Monday was into strong winds all day. I'll have to write a proper post about 'true' and 'apparent' wind for y'all if I get the time
Tuesday started out great, was making good time. Had a local stop me before I went down a hill to a small bridge out in Jacksonville. I only wish I had discussed the rest of the day.
Part of the route was on some backroads I was a bit unsure of. They turned out to be unpaved and became increasingly 'rural' as I pedaled on, at one point I started hearing banjos and was wondering if I ever would see paved roads again… haha.
When I did get out onto Rt 100, it was great, The rain was light and the road clear and smooth. The dirt roads had slowed me down but I definitly had enough time to get to Pittsfield before dark. Or so I thought until I hit 106 where I found a major "bridgeout" sign… uh-oh. The closest suitable bridge was 20 miles north, and there were no motles anywhere in the area… uh oh… the closest motel on this side of the river was ~30 miles NNE (on this section I am traveling SSW – eek)
There was one other bridge though… Only that one entailed a 10mile uphill sprint along the interstate… Luckily I ran into a trucker who gave me the skinny on the bridge (wide shoulder) and I just went for it.
Total mileage for the day was 77miles… Last ten miles a looooonng uphill on a road few bikes tread;. It was safe, just a bit nervewracking, waiting for the Highway Patrol to pull up and ask me what the heck I think I was doing… Needless to say getting off the exit was a relief, then a quick 5 miles into town… and here I sit, getting ready to see what today will bring 🙂
Oh, I guess I forgot the three time I had to stop and repair my front tube… lulz…
pedal pedal
🙂