The Ozarks
June 16th, 2009
Goto comments
Leave a comment
WordPress database error: [You have an error in your SQL syntax; check the manual that corresponds to your MySQL server version for the right syntax to use near 'Array AND wp_tppk6p_posts.ID IN ('last_changed', 'get_page_by_path:6f24d1403674' at line 1]
SELECT DISTINCT wp_tppk6p_posts.ID FROM wp_tppk6p_posts LEFT JOIN wp_tppk6p_term_relationships AS tr ON wp_tppk6p_posts.ID = tr.object_id WHERE 1=1 Array AND wp_tppk6p_posts.ID IN ('last_changed', 'get_page_by_path:6f24d14036742f888bce7e47e4ac1627:0.64051300 1696267643', '760', '757', '764', '11', '981', '979', '977', '975', '341', '2', '189', '149', '163', '520', '250', '197', '262', '364', '469', '264', '230', '392', '275', '277', '279', '281', '283', '288', '290', '292', 'get_pages:4d452de86941be3fdec4ad38aa7b6c08:0.64051300 1696267643')
I like Missouri, great people.
As with most of us, a quick smile, wave, or tip of the hat tends to bring out the best. Missourians took that one step further. Not charging me for water, apples, and, "hey, let me make you an Ozark BBQ Meat sandwich special, on me." In a way, it reminds me of Hawaii. I'll be leaving you tomorrow Missouri, mahalo for the hospitality…
And I ain't even got to the CfL folks. 😀 I happened to be passing through Jeff City during their state level organizing meeting, and was a guest at the BBQ. Saw some old friends
met some new ones
Gave a speech (((eeek)))
and went to the afterparty… which made for some hardpedaling the next day.
Did I mention The Ozarks have been a bit humid…?  Thunder and lightening ahead, and to the sides, today… frunny how distracting massive bolts can be… It cleared up in afternoon, and became sweltering, seemed the perfect weather for thunderstorms. I watched this one, far to the east develop quickly from this,
into this…
All in all a decent day though, not much heavy rain, kind cool for the AM. And quite successful on spreading the message. First thing in the AM I pedaled back to the Buffalo Sheriff Office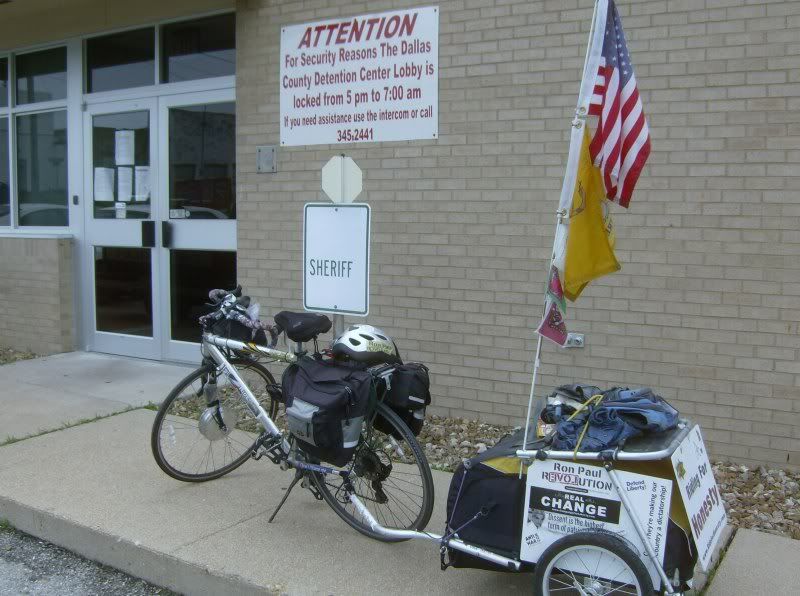 where I talked to (as usual) the Chief Deputy… Definitely a decent guy, reinforced that he certainly did not agree with the DHS political profiling…
A line that has been developing is tied to the presentation of the constitution. I have already been mentioning solutions when I get to the little green book, at that point I say something like, "and the honest truth is that the solutions are in this little book right here, The US Constitution.  We just need to get people to follow it again. I know a lot of people say it is an old document, but that fact is that times and seasons change, but human nature, and the root of crime, doesn't. The same crimes that have plagued humanity forever are still with us today. (at this point I get strong body language agreement), and this here document is the best yet devised to keep the really dangerous criminals at bay, wannabe tyrants"
Speaking of tyrants…I often hear people complaining of "sheeple" and want to touch a bit on that.
The great mass of humanity just wants to be left alone. These are the salt of the earth, and god bless em. Think of them as the weight of a pendulum being acted upon by opposing forces. Tyrants on the one hand, liberty activists on the other. It is an age old battle. I have no idea (and frankly don't care) why the world was set up with light and dark, good and evil, etc. It is just a fact of life. As are the good people, who just want to be left alone.
As things get more turbulent, more and more of these salty types get shaken loose from the mass. Most of them will side with the liberty folk. Tyranny is only attractive to the truly warped and mentally ill. That is why it is so important to be out there planting seeds. As these types reach the edge of the mass and are about to shake loose, they need to know there is a net for them to latch onto, otherwise they will cling to that pendulum against all hope…
I hope that makes sense, much seems clear while engaged in the zen of bicycle wheel r3VOLutions, but not so easy to put in words, all knackered on a motel bed.
Other events of yesterday included a local reporter coming out to see what I was about, no article yet, but went very well. I stopped at the Greene County Sheriff. It was in one of them new "Justice Centers" and not as friendly as the small town sheriff offices. The retiree guard was nice enough. The two guys behind him seemed a bit of the smirkish types (yuck), the receptionist in the actaul office was sweet, and after finding out everyone was in a meeting took the books for me. One weirrd thing was a younger lady who hung inj the doorway, just out of sight as I gave my pitch. I knew she was there from shadows, etc… As I left, I was sure to lean a bit and catch her eye. 😉
The final good news for the day was a supporter, Renea came from another county and picked up a pack for here sheriff, and gave a cool roadside interview I hope to get up with better i-net.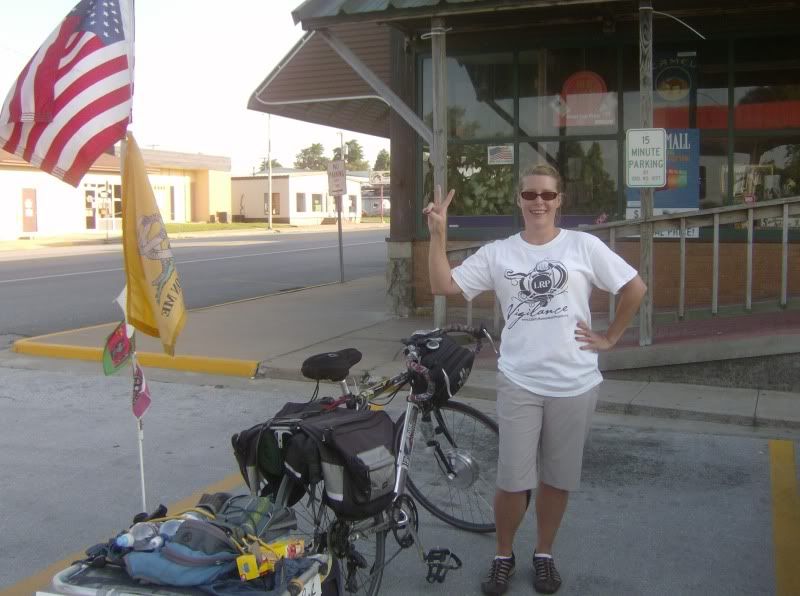 The only drama of the day was pulling into town where I had problems with my rear tire. Fixed it once as darkness fell, but something hadn't seated right… The rains were approach and darkness growing, I finally had to ride on the flat for a bit to get to the motel and off the road. I think it is fixed now… will know for sure in a few…
pedal pedal